Archive for the 'General Alcohol News' Category
IWSR Research Indicates that 1.8% of the Value of all Global Beverage Alcohol is now Sold through Ecommerce
London – Like others, the drinks industry has recognized what a critical medium the digital environment is to interact with consumers, inform them, learn from them and ultimately to sell to them. Regulation has made the online retailing of alcohol more complicated than other sectors and this has stifled development, but this is changing.
IWSR Drinks Market Analysis' global database now captures just how effective drinks players have been at selling digitally. Although variances inevitably exist between markets, the results for 2018 show that 1.8% of the value of all alcoholic drinks traded around the globe is now sold through ecommerce.
It is wine that has best harnessed the selling power of the online retail environment. Last year as much as 3.6% of all wine value sales stemmed from ecommerce outlets, a figure that translates into nearly US$8bn of sales. The rapid expansion of wine sales online has even threatened the viability of independent "bricks and mortar" wine stores in the UK. Online wine sales in the country have reached 6.5% of total sales value, prompting one leading wine retailer, Majestic, to announce that they are to sell off much of their retail estate to concentrate on their online business, Naked Wines.
The extensive number of wine producers and the diversity of choice has meant that a culture of experimentation has always existed within the wine sector. The online environment has proved to be well placed to service wine drinkers' curiosity and to educate and inform consumption choices. The dramatic
expansion of online wine marketplaces like Vivino, which after just nine years of trading now claims to have 10 million different wines and as many as 35 million users, has illustrated just how compatible wine selling is within the digital space.
Sales of spirits through ecommerce may not be as pronounced as wine, but IWSR research shows that around US$6.5b of spirits were sold online in 2018, a figure that represents 2% of all global spirits' value sales. For example, ecommerce is reported to now be Pernod Ricard's fastest growing channel.
Direct selling on owned online platforms has proved less effective for spirits operators than partnerships or acquisitions with established online retailers and delivery services, perhaps because it compromised choice to exclusively sell their own brands. The recent trend has been for operators to partner with existing online platforms to maximize exposure and to showcase their brands from a different angle to consumers.
The development of the online marketplace is happening at different speeds with drinkers in some markets quicker to adopt new purchasing practices and habits than others. The reported 800m Chinese internet users have been quick to embrace the advent of ecommerce. The explosion in smart phone use, social media apps and mobile ecommerce has facilitated this shift in buying habits and meant that 6.5% of off-premise sales of all alcoholic drinks are now ordered online in China.
The ecommerce channel has proved particularly popular for wine sales in China. Encouraged by fierce competition, which has ensured low prices and fast delivery, online sales now account for 9% of sales value – that is a fifth of all off-premise wine sales, as well as online spirits sales of almost 4%.
Even in markets like China where ecommerce penetration is already comparatively high, it can be assumed that the Ecommerce channel will continue to take share from "bricks and mortar" retail. The development of the channel will be fuelled by convenience, competitive pricing, a quickening speed of delivery and by rising digital competence.
The shift to digital platforms will change the alcoholic drinks landscape forever, providing a marketplace for a plethora of brands and concepts that are no longer reliant on winning shelf space from a few major retail chains. The future alcoholic beverage market will be a more diverse and interesting place as a result.
Who's calling the shots? Tavern owners want more regulation from the state in an increasingly competitive market
Does the lack of public interdiction of political policy creates a problem for public safety and an opportunity for public danger? Tragedy usually creates the need for lawful policy.

Wedding barns, hair salons, jewelry stores, supermarkets, fast food service, and art dealers, do they all need licenses to serve alcohol? How many state alcohol enforcement agency and local police ever have enough money to enforce alcohol laws with increase of new alcohol locations?
The privilege to deliver and serve alcohol to people must come with a legal responsibility. Prevention of alcohol misuse comes from education for servers and funding for state agency and local police departments.
Wisconsin Tavern League has been a political powerhouse for decades — advocating in the Capitol for thousands of bars and restaurants across the state that serve alcohol.
The group, which was established in 1935 and is the largest tavern association in the world, has, like other advocacy groups, won and lost policy fights over the years. Among its victories, the Tavern League has fought successfully to extend bar hours and remove drunk driving warnings from state road signs. Its biggest loss in recent years was the failure to prevent a statewide smoking ban in bars in 2010.
It has yet to stop what it says is a growing existential threat to local bars and banquet halls: wedding barns, the privately owned establishments advertised to the public and available to rent for a variety of events, the most popular of which is the rusticly themed nuptial. People who rent out these venues typically bring in their own alcohol and bartenders to serve it. Some barn owners have liquor licenses, but many do not and have not been required to obtain them as is required of a banquet hall or bar.

"Our industry has been under attack since day one… just a difference in who's attacking and what the issue is," said Pete Madland, executive director of the Tavern League, in an interview.
The organization's members have for years advocated for more of what other business interests typically rebuff: government regulation and aggressive enforcement. In particular, they argue, the hands-off approach to wedding barns and other unregulated events spaces highlights a lack of consistency when it comes to enforcing liquor laws, a longstanding gripe of the Tavern League.
They say Gov. Tony Evers' administration has so far largely abdicated that responsibility, along with his predecessors from both parties, Scott Walker and Jim Doyle, neither of whom took a firm, consistent approach to alcohol regulation.
"It's the only area of government advocating to deregulate an industry … these are government officials whose only job is regulation," Madland said of the state Department of Revenue and its enforcement agents. Revenue is the agency through which alcohol is taxed and regulated and it currently has nine agents to monitor hundreds of businesses that hold alcohol licenses.
There is no reliable Democratic or Republican position when it comes to selling and serving alcohol and both parties accept Tavern League campaign contributions to boost their candidates.
Evers has said that he wants to see alcohol consumption in the state better controlled, but he has yet to change the state's approach to how it enforces the law or provide guidance on how the state's alcohol statutes should be applied.
"Alcohol is something that needs control and so we have to make sure that is controlled in a way that other spirits are," he said shortly after winning election in November 2018, according to the Milwaukee Journal Sentinel. Evers spokeswoman Melissa Baldauff did not respond to repeated requests for comment on the issue.
Six months after Evers took office, the Tavern League and wholesalers say they are still waiting for guidance.
"We're operating without a net … nobody is calling the shots," said Madland, who said the Tavern League has asked the state countless times over the last several years to better enforce the law. "We've lost some respect for the agency … the message it is sending to our members: 'You don't have to follow the law.' And that isn't some hyperbole."
Allowing unlicensed event venues to stay in business while alcohol is served on the premises violates past Department of Justice legal opinions and is tantamount to the executive branch creating new policy without the Legislature, said Scott Stenger, the Tavern League's lobbyist.
Stenger cites a 1992 legal opinion from then Attorney General Jim Doyle, who told the Legislature that if alcoholic beverages are served at an event where an admission fee is charged (similar, Stenger said, to a rental fee) that the "owner of the establishment must hold the appropriate alcohol beverage license."
"We're perplexed … wedding barns were always required to have a license," he said.
Eric Jensen, lobbyist for the Wisconsin Beer Distributors Association, said his organization, too, wants more enforcement.
"We want our industry to follow the law, and we look forward to working with the current administration and the Department of Revenue to ensure our enforcement measures accomplish that goal," he said in a statement to the Cap Times, speaking about enforcement broadly, not wedding barns. "The nondiscriminatory, competitive playing field created by these regulations has provided Wisconsin a vibrant craft beer and alcohol market in which our homegrown businesses compete fairly with manufacturers from across the country."
Though the Department of Revenue jointly enforces state alcohol laws with local municipalities, it is considered the legal authority on how those rules are followed. Patty Mayers, a spokeswoman for the agency, said it has been working with the state's alcohol industry to improve enforcement and is working on finding funds to hire more enforcement agents.
"The Department of Revenue takes very seriously the topic of alcohol regulation and enforcement, and effectively utilizes the resources granted to us by the legislature to enforce alcohol laws," Mayers said.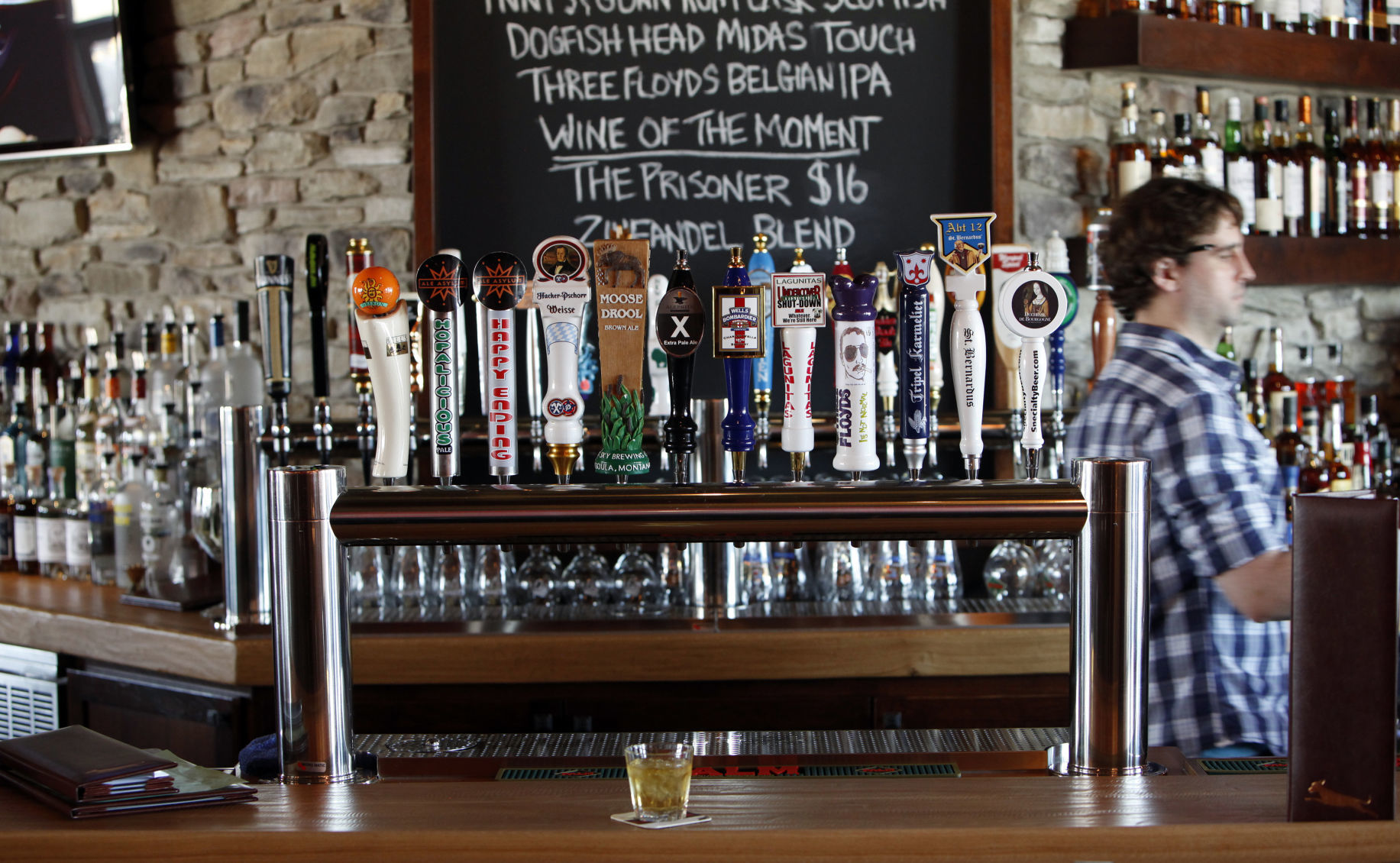 Department of Revenue as 'referee'
The framework of laws that the Tavern League and alcohol wholesalers want better enforced is called the "three-tier system." This set of laws outlines how alcoholic beverages should be manufactured, distributed and sold in the state.
After Prohibition ended in 1929, Wisconsin, among other states, adopted this system, which mandates that alcohol be made, distributed and sold by different companies. For example, a business that makes alcohol cannot also distribute it and companies that sell alcohol wholesale cannot sell it directly to the public.
Businesses like breweries, wineries and distilleries that produce the alcohol each have distinct rules they must follow. Those rules have changed incrementally over the years — some say becoming murkier — to accommodate new trends and business models in the growing craft beverage industry.
Though the three-tier system was intended to prevent monopolies, some craft beverage businesses say it now does the opposite, protecting some alcohol players at the expense of others.
The debate surrounding the three-tier system and how it should work has divided Republican lawmakers and pitted businesses that produce alcoholic beverages against those that distribute and sell them to the public. Both sides speak of clarifying the law, but what that looks like varies widely.
The state Department of Revenue was always supposed to be a referee between those business interests, but it has become increasingly passive, said Roger Johnson, a former regulator who retired in 2014 after 38 years working in alcohol enforcement. Johnson participated in a legislative study committee on alcohol regulation last year that resulted in little new policy, none of which addressed key longstanding problems. He acknowledged that wedding barns should be regulated in some way, but said that he has not been aware of what's happened at the department since he left.
"I think there is a reluctance on the Department of Revenue's part to get involved in any kind of municipal issues that come up, which, as the referee as a state agency, we're here to administer and enforce the law," he said. "If you want to change the law, change the law. Don't wink and nod and ignore it because it's not going to go away."
He looks at efforts to clarify the law as "an attempt to bring things under control before it does become a problem," he said.
Robert Pomplun servingalcohol.com
More than 180 establishments holding New York state liquor licenses have been charged with serving minors during last month's statewide crackdown on underage drinking.
That's according to state officials who say April's monthlong enforcement effort resulted in charges being filed against 186 out of the 851 bars, restaurants, liquor stores and grocery stores in 46 counties that were visited by underage decoys working with investigators.
The compliance checks were conducted by the State Liquor Authority, the state Department of Motor Vehicles and local law enforcement agencies.
Democratic Gov. Andrew Cuomo announced the start of the statewide sweeps in early April. He says it was the state's latest effort to catch people using fake identifications to buy alcohol and to hold businesses accountable for illegal sales.
Newsletter Correction – Conceal / Carry Language
DATE: February 28, 2014
CONTACT: Ted Penesis (ted.penesis@illinois.gov)

The Commission's 2014 Winter Newsletter states the following:
"Due to the new Firearm Concealed Carry Act, Special Event/Special Use license holders and Retailer license holders whose gross receipts are more than 50 percent alcoholic liquor within the prior three months, have a duty to prohibit persons from carrying guns into their licensed establishment."
The Commission clarifies that the Firearm Concealed Carry Act firearm prohibition only applies to "[a]ny building, real property, and parking area under the control of an establishment that serves alcohol on its premises if more than 50% of the establishment's gross receipts within the prior 3 months is from the sale of alcohol." [(430 ILCS 66/65(a)(9)].
The Firearm Concealed and Carry Act prohibition does not apply to retail licensed locations that sell alcoholic liquor for off premises consumption only. All license holders should consult the Illinois statutes and local ordinances and if necessary, private counsel, to determine whether or not they are in compliance with the Firearm Concealed Carry Act.
To learn more take our BASSET Alcohol Permit License Course.
The suspension begins on January 20th, 2019 and will last 21 days. As a result, owners of the bar estimate they will lose $115,000 US in lost sales earnings in the 21 days the Barrel Room will be legally prohibited from selling alcohol.
According to the lawsuit, the bartender admitted to Portland police that he had been drinking on the job that day and had been relieved of his duties because of this. As a result, the owners of the bar are now seeking damages from its former employee for $5,500 per day over 21 days for a total of $115,000 USD.
Furthermore, employees who serve alcohol in Oregon are required to have a permit issued by the Oregon Liquor Control Commission. This applies to nightclubs, bars, restaurants, taverns, private clubs, lounges, etc. Because the bartender was drinking alcohol on the job, and drunk at work, consequently he had his service permit suspended for 18 days and was also penalized.
Learn more about Oregon Alcohol Permit at servingalcohol.com