Posts Tagged 'alcohol consumption'
Who's calling the shots? Tavern owners want more regulation from the state in an increasingly competitive market
Does the lack of public interdiction of political policy creates a problem for public safety and an opportunity for public danger? Tragedy usually creates the need for lawful policy.

Wedding barns, hair salons, jewelry stores, supermarkets, fast food service, and art dealers, do they all need licenses to serve alcohol? How many state alcohol enforcement agency and local police ever have enough money to enforce alcohol laws with increase of new alcohol locations?
The privilege to deliver and serve alcohol to people must come with a legal responsibility. Prevention of alcohol misuse comes from education for servers and funding for state agency and local police departments.
Wisconsin Tavern League has been a political powerhouse for decades — advocating in the Capitol for thousands of bars and restaurants across the state that serve alcohol.
The group, which was established in 1935 and is the largest tavern association in the world, has, like other advocacy groups, won and lost policy fights over the years. Among its victories, the Tavern League has fought successfully to extend bar hours and remove drunk driving warnings from state road signs. Its biggest loss in recent years was the failure to prevent a statewide smoking ban in bars in 2010.
It has yet to stop what it says is a growing existential threat to local bars and banquet halls: wedding barns, the privately owned establishments advertised to the public and available to rent for a variety of events, the most popular of which is the rusticly themed nuptial. People who rent out these venues typically bring in their own alcohol and bartenders to serve it. Some barn owners have liquor licenses, but many do not and have not been required to obtain them as is required of a banquet hall or bar.

"Our industry has been under attack since day one… just a difference in who's attacking and what the issue is," said Pete Madland, executive director of the Tavern League, in an interview.
The organization's members have for years advocated for more of what other business interests typically rebuff: government regulation and aggressive enforcement. In particular, they argue, the hands-off approach to wedding barns and other unregulated events spaces highlights a lack of consistency when it comes to enforcing liquor laws, a longstanding gripe of the Tavern League.
They say Gov. Tony Evers' administration has so far largely abdicated that responsibility, along with his predecessors from both parties, Scott Walker and Jim Doyle, neither of whom took a firm, consistent approach to alcohol regulation.
"It's the only area of government advocating to deregulate an industry … these are government officials whose only job is regulation," Madland said of the state Department of Revenue and its enforcement agents. Revenue is the agency through which alcohol is taxed and regulated and it currently has nine agents to monitor hundreds of businesses that hold alcohol licenses.
There is no reliable Democratic or Republican position when it comes to selling and serving alcohol and both parties accept Tavern League campaign contributions to boost their candidates.
Evers has said that he wants to see alcohol consumption in the state better controlled, but he has yet to change the state's approach to how it enforces the law or provide guidance on how the state's alcohol statutes should be applied.
"Alcohol is something that needs control and so we have to make sure that is controlled in a way that other spirits are," he said shortly after winning election in November 2018, according to the Milwaukee Journal Sentinel. Evers spokeswoman Melissa Baldauff did not respond to repeated requests for comment on the issue.
Six months after Evers took office, the Tavern League and wholesalers say they are still waiting for guidance.
"We're operating without a net … nobody is calling the shots," said Madland, who said the Tavern League has asked the state countless times over the last several years to better enforce the law. "We've lost some respect for the agency … the message it is sending to our members: 'You don't have to follow the law.' And that isn't some hyperbole."
Allowing unlicensed event venues to stay in business while alcohol is served on the premises violates past Department of Justice legal opinions and is tantamount to the executive branch creating new policy without the Legislature, said Scott Stenger, the Tavern League's lobbyist.
Stenger cites a 1992 legal opinion from then Attorney General Jim Doyle, who told the Legislature that if alcoholic beverages are served at an event where an admission fee is charged (similar, Stenger said, to a rental fee) that the "owner of the establishment must hold the appropriate alcohol beverage license."
"We're perplexed … wedding barns were always required to have a license," he said.
Eric Jensen, lobbyist for the Wisconsin Beer Distributors Association, said his organization, too, wants more enforcement.
"We want our industry to follow the law, and we look forward to working with the current administration and the Department of Revenue to ensure our enforcement measures accomplish that goal," he said in a statement to the Cap Times, speaking about enforcement broadly, not wedding barns. "The nondiscriminatory, competitive playing field created by these regulations has provided Wisconsin a vibrant craft beer and alcohol market in which our homegrown businesses compete fairly with manufacturers from across the country."
Though the Department of Revenue jointly enforces state alcohol laws with local municipalities, it is considered the legal authority on how those rules are followed. Patty Mayers, a spokeswoman for the agency, said it has been working with the state's alcohol industry to improve enforcement and is working on finding funds to hire more enforcement agents.
"The Department of Revenue takes very seriously the topic of alcohol regulation and enforcement, and effectively utilizes the resources granted to us by the legislature to enforce alcohol laws," Mayers said.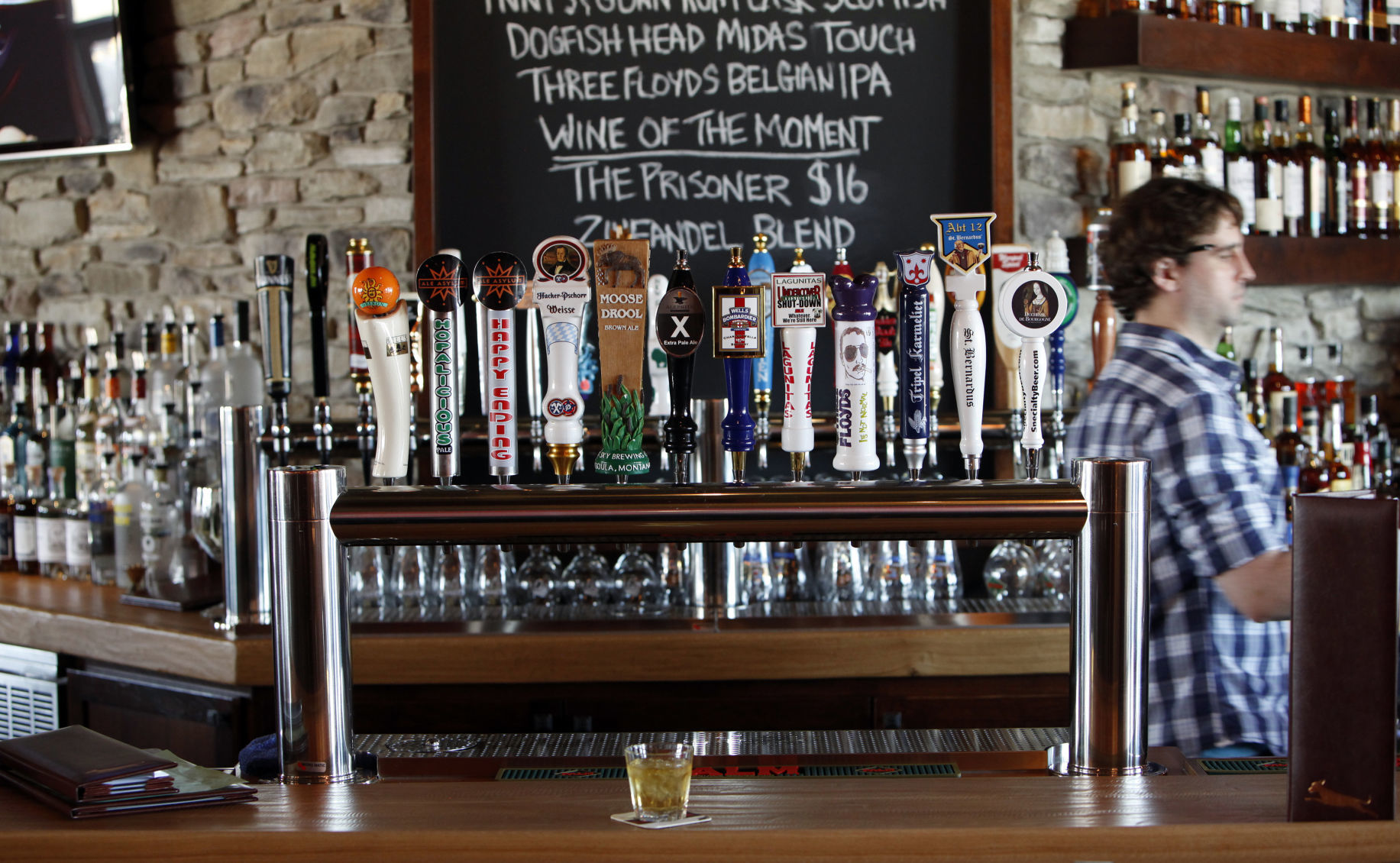 Department of Revenue as 'referee'
The framework of laws that the Tavern League and alcohol wholesalers want better enforced is called the "three-tier system." This set of laws outlines how alcoholic beverages should be manufactured, distributed and sold in the state.
After Prohibition ended in 1929, Wisconsin, among other states, adopted this system, which mandates that alcohol be made, distributed and sold by different companies. For example, a business that makes alcohol cannot also distribute it and companies that sell alcohol wholesale cannot sell it directly to the public.
Businesses like breweries, wineries and distilleries that produce the alcohol each have distinct rules they must follow. Those rules have changed incrementally over the years — some say becoming murkier — to accommodate new trends and business models in the growing craft beverage industry.
Though the three-tier system was intended to prevent monopolies, some craft beverage businesses say it now does the opposite, protecting some alcohol players at the expense of others.
The debate surrounding the three-tier system and how it should work has divided Republican lawmakers and pitted businesses that produce alcoholic beverages against those that distribute and sell them to the public. Both sides speak of clarifying the law, but what that looks like varies widely.
The state Department of Revenue was always supposed to be a referee between those business interests, but it has become increasingly passive, said Roger Johnson, a former regulator who retired in 2014 after 38 years working in alcohol enforcement. Johnson participated in a legislative study committee on alcohol regulation last year that resulted in little new policy, none of which addressed key longstanding problems. He acknowledged that wedding barns should be regulated in some way, but said that he has not been aware of what's happened at the department since he left.
"I think there is a reluctance on the Department of Revenue's part to get involved in any kind of municipal issues that come up, which, as the referee as a state agency, we're here to administer and enforce the law," he said. "If you want to change the law, change the law. Don't wink and nod and ignore it because it's not going to go away."
He looks at efforts to clarify the law as "an attempt to bring things under control before it does become a problem," he said.
Robert Pomplun servingalcohol.com
Presented to you by www.ServingAlcohol.com
Scientists have shown that a drug that normalizes dopamine levels in the brain can reduce alcohol cravings in people dependent on drink.
The finding was based on two studies, one conducted on people and one on rats. In the human trial, patients who took the experimental drug showed a marked reduction in alcohol craving. A separate animal study suggested that the drug works by acting on dopamine levels.
"It is proof of concept" that alcohol dependency can be treated by targeting the dopamine system, said Pia Steensland, neuroscientist at Karolinska Institute in Sweden and co-author of both studies. "We need to do larger trials" to validate the results.
Current drugs for alcohol dependency aren't especially effective. The population of patients is genetically diverse, so only certain subgroups benefit. Prescription rates are low. As a result, the need for better medicines is huge.
Alcohol makes the brain's reward system release more dopamine than normal, triggering a feeling of well-being. But as more alcohol is drunk, the more the reward system is desensitized and the less dopamine is released. Eventually, a person drinks more alcohol not just to feel euphoric, but to attain a state of physical and emotional normality. Thus, addiction sets in.
More than 16 million adults in the U.S. have an alcohol-use disorder and nearly 88,000 people die each year from alcohol-related causes, according to the National Institutes of Health. In 2006, alcohol misuse cost the U.S. economy $223.5 billion, the NIH said.
For the human study, published Wednesday in the journal European Neuropsychopharmacology, scientists recruited 56 Swedish alcohol dependent men and women, who typically would drink the equivalent of a bottle of wine a day.
The participants abstained from drink for at least four days. Half were then given a placebo and half got OSU6162, a drug believed to stabilize dopamine levels. The patients were randomized and neither they nor the researchers knew who was getting the experimental drug and who was getting the placebo.
For two weeks, the participants could drink as much as they liked. On day 15, each person was offered a glass of their favorite drink. According to the study, the OSU group reported not enjoying their first sip as much as the placebo group. After the drink was finished, the OSU group reported a lower craving for alcohol compared to the placebo group.
In addition, those with the poorest impulse control-and thus at greater risk of relapse after a period of abstinence-responded best to the experimental drug.
Both the OSU and placebo groups reported only mild side effects. This is significant because other dopamine-based medicines, such as those used to treat schizophrenia, completely block dopamine and can lead to nasty side-effects, such as nausea.
The rights to OSU6162 are owned by Arvid Carlsson, professor emeritus at the Sahlgrenska Academy in Sweden and co-author of the human study. Dr. Carlsson, 92 years old, shared in the 2000 Nobel Prize for medicine for discovering that dopamine is a transmitter in the brain. His team also developed OSU6162.
To better understand how OSU6162 might work, Dr. Steensland and other researchers did a separate study on rats, also published Wednesday in the journal Addiction Biology. Rats that voluntarily drank alcohol over the course of almost a year had lower dopamine levels than animals that drank no alcohol. When OSU6162 was given to the "alcohol rats," their dopamine levels returned to normal.
The human trial wasn't designed to comprehensively evaluate whether the experimental drug could help people drink less. But because of the promising early-stage results, Dr. Steensland and her colleagues now hope to do a longer-term trial involving many more patients.
More than 16 million adults in the U.S. have an alcohol-use disorder
Source: WSJ By Gautam Naik Oct. 14, 2015
The Reasons Moderate Alcohol Consumption Gets More Complicated in Middle Age
Source: WSJ
Andrea Petersen
Nov. 18, 2013
When you're in your 40s, it's pretty common to need reading glasses. You might need smaller wine glasses, too.
That's because alcohol hits people harder in their 40s and 50s than it did during their 20s and 30s. The reasons for this include changes in body composition to brain sensitivity and liver functioning. Lifestyle factors are at play, too. And since people tend to take more medications-both prescription and over-the-counter-as they age, there are more chances for uncomfortable and even dangerous booze-drug mixing.
"All of the effects of alcohol are sort of amplified with age," says David W. Oslin, a professor of psychiatry at the Perelman School of Medicine at the University of Pennsylvania. "Withdrawal is a little bit more complicated. Hangovers are a little bit more complicated."
Part of the issue is that people in their 40s and older simply tend not to drink as much or as often as those in their 20s and 30s, which lowers tolerance. "You're becoming more work-oriented, more family-oriented," says Robert Pandina, director of the Center of Alcohol Studies at Rutgers University.
So when you do drink "you might have a more sensitive response to alcohol because you've lowered your exposure to alcohol over all."
Some people swear that only certain types of alcohol-red wine, tequila-are a problem. Generally, doctors say there's little science indicating that some drinks make people drunker or lead to more miserable hangovers. It is true, however, that people at any age can develop sensitivities to sulfites and tannins in wine, which can cause headaches and an upset stomach, Dr. Pandina says. And the carbonation in sparkling wines or even in mixed drinks like whiskey and Coke "seems to increase how rapidly alcohol is absorbed," says Reid Blackwelder, president of the American Academy of Family Physicians and a practicing family doctor in Kingsport, Tenn.
About 52% of people age 45 to 64 are "regular" drinkers, meaning they had at least 12 drinks in the previous year, according to the Centers for Disease Control and Prevention's 2011 National Health Interview Survey.
Body composition starts to change as early as the 30s. As people age, they tend to lose muscle mass, while fat content increases. Alcohol isn't distributed in fat. People also have less total body water as they get older. So if several people have the same amount to drink, those with more fat and less muscle and body water will have more alcohol circulating in their bloodstream. (This is also partly why women of any age tend to feel alcohol's effects more than men.)
"A lot of older people are borderline dehydrated. They have less body water just from the natural effects of aging," Dr. Blackwelder says. It helps to drink water and have a full stomach when knocking one back.
The majority of alcohol is metabolized by the liver, which changes when people hit their 50s. (A small amount is metabolized in the stomach and mouth.) The liver gets bigger as people get older, but the organ becomes less efficient. Blood flow decreases, as do the number of hepatocytes, the liver's functional cells, says Gary Murray, acting director of the Division of Metabolism and Health Effects at the National Institute on Alcohol Abuse and Alcoholism at the National Institutes of Health.
Certain enzyme levels dip, too, including one type of the enzyme alcohol dehydrogenase, which breaks down alcohol. Women of all ages tend to have lower levels of this enzyme in the stomach. But between the ages of 50 and 60, men see their levels slide, too. All these changes mean "you have a prolonged exposure to alcohol and possibly a little bit bigger buzz," when you drink, Dr. Murray says. There's also some evidence that hormonal changes around menopause can increase women's sensitivity to alcohol. Healthy young people tend to metabolize about one drink per hour, Dr. Murray says.
Stephanie Draeken used to enjoy a glass or two of wine several nights a week. "I have four kids. I need my wine," says the stay-at-home mother in Austin, Texas. But since turning 40 nearly two years ago, Ms. Draeken says if she has even one glass of wine now she'll "wake up in the middle of the night with a horrible headache and the next day is like a college-style hangover without the college-style fun," she says.
She tried switching to higher-priced wine, then stuck with white wine. She tried champagne. "It didn't matter," she says. She says she now rarely drinks wine and limits herself to an occasional vodka and soda.
Alcohol-drug interactions can become more of a problem, too, since older people are more likely to take medications. Alcohol and many medications are metabolized by the same enzymes in the liver, which can enhance the effects of alcohol or the medications. Heartburn drugs like Zantac interfere with the metabolism of alcohol, thus raising blood-alcohol levels.
Acetaminophen (Tylenol) poses another problem because, combined with alcohol, it can damage the liver.
Mixing alcohol with blood thinners like Coumadin can be particularly dangerous, causing bleeding. "People on Coumadin shouldn't really drink at all," says Dr. Oslin. And taking alcohol with some pain medications and benzodiazepines (antianxiety drugs) can make you "more prone to sedation, more prone to cardiovascular risk and more prone to overdose," Dr. Oslin says.
People with certain medical conditions should also be cautious with alcohol, doctors say. Long-term alcohol use can raise blood pressure. And alcohol tends to irritate the stomach.
Barring health problems and medication interactions, doctors generally become concerned when people drink more than a moderate amount of alcohol. That is defined as up to two drinks per day for men and up to one drink per day for women, according to the latest federal Dietary Guidelines for Americans. (A standard drink is about 12 ounces of beer, 5 ounces of wine or 1.5 ounces of liquor, according to the CDC.)
In fact, there's some evidence that a moderate amount of alcohol can have health benefits. Studies have linked moderate alcohol consumption with a reduced risk of cardiovascular problems and death overall. Excessive alcohol consumption increases the risks of liver disease, stroke, high blood pressure, certain types of cancer and dementia, beyond the obvious accidents and injuries.
Particularly beginning in the 50s and 60s, the brain is more sensitive to alcohol. Booze basically enhances normal age-related cognitive decline. Neurons lose speed. Specifically, the insulating myelin sheaths around the axons of neurons-the parts responsible for transmitting information to other neurons-get smaller. As people age, "neurons are not as efficient. So you impair them with a little bit of alcohol, they are that much more inefficient," says Dr. Oslin. "Somebody who goes to a cocktail party at 65 can have one or two drinks and be really impaired."
Older people are also more affected by alcohol's impact on sleep, a fact that can turn a mild hangover into a must-stay-in-bed-all-day affair. "Alcohol in all ages wrecks our REM sleep," says Alison A. Moore, professor of medicine and psychiatry at the David Geffen School of Medicine at the University of California, Los Angeles. "Older adults are more likely to have poor sleep. [Alcohol] can make sleep even more fragmented."
Although this is nothing 'new' it has been getting a lot of press lately. We are posting this only to raise the awareness of the alcohol sellers and servers that control environments where underage persons may use this approach to hide alcohol use.
Here is a link to one of the many articles:
http://www.keloland.com/videoarchive/index.cfm?VideoFile=111011drunk
You can do a search on You Tube if you are interested in finding out more.
Learn more and be safer visit us at servingalcohol.com