Posts Tagged 'serving alcohol'
A Judge in Isanti County Minnesota has been leading the way to keep the celebrating safe.  It's called Safe Cabs.  It's a free ride home for the citizens of Isanti County, MN.  Judge Dehn's program is spreading with great success to other Minnesota counties throughout the state.
Since beginning the program, DWI cases and accidents have been reduced by 65%.  It has also increased the business for local cab companies. Besides the late night afterhours ride home, more people have become aware and a fan of the local cab companies.  Thus leading to more profits for them.  
Watch the video about the very effective Safe Cabs program.
Pedialyte isn't just for when your child has an upset tummy. For years, the product has helped kids re-hydrate and recover from stomach bugs.  But adults who are looking to cure a hangover make up a third of the Pedialyte market.  The brand had launched a new marketing campaign aimed at adults with a dreaded hangover to cater to their new adult clientele.
Serving Alcohol, an online alcohol training course, has discovered this secret hangover cure from the Internet. Celebrity endorsements are helping boost the popularity of Pedialyte as a hangover cure. Miley Cyrus recently posted a selfie holding up a bottle of Pedialyte, and Pharrell Williams told US Weekly that he drinks the stuff "almost every day."

Alcohol is a diuretic.  Alcohol training providers teach how the consumption of alcohol depletes sodium, which regulates how water is used in the body.  Alcohol rids the body of water and electrolytes including potassium and magnesium through urination and can cause dehydration. Hangovers are the body's reaction to withdrawal from alcohol. Common hangover symptoms may include fatigue, thirst, nausea and vomiting. The severity depends on the individual and how much they consumed.
Hangover Cure is Third of Pedialyte Market
The company's "See The Lyte" campaign features a shirtless man with messy hair standing before a fridge, which contains a bottle of Pedialyte. The fluid may help ease hangovers by replenishing the body with electrolytes, salts and sugars.
To help cater to the growing market for adults, brand owner Abbott Laboratories are selling larger packs of the powdered version of the drink.  Pedialyte is just another in a growing list of products and services catering to the market for hangover cures.  For those people who might be going into work with a hangover, bring along a bottle of coconut water instead of of Pedialyte. It's a little less conspicuous.  To prevent or reduce the severity of a hangover, drink lots of water before and during your night out and eating a decent-sized meal beforehand.  To be truthful , there is no such thing as an instant hangover cure.  But the use of this child's drink has help elevate the symptoms for more and more adults. 
So, the next time someone asks you for a good cure for a hangover, you can suggest Pedalyte.  Is it really a cure? – No.  There is no medical cure for a hangover.  The real truth is alcohol needs time to process in and out of the body through oxidization.  But, as funny or odd as it seems,  drinking Pedalyte has become the secret cure for the common adult hangover from alcohol.  
Representatives from colleges throughout Illinois attended the Illinois Liquor Control Commission's (ILCC) 9th Annual College Town Summit, held on November 9, 2017 at Western Illinois University. Presentations focused on timely topics pertaining to alcohol-related issues on college campuses.
Robert Pomplun from Serving Alcohol Inc. is one of our speakers this year.  As an industry expert, Bob Pomplun conducts a break out session concerning the alcohol server training for the state of Illinois Basset alcohol course.
Topics included: Neurological effects of alcohol, binge drinking,
sexual assault, prevention and recovery on college campuses.
For the second year in a row, the summit included a student
panel and expo. The ILCC would like to thank the staff at Western Illinois
University for hosting the event.
Changyu, China's winemaking powerhouse, is building French-style chateaus and Italianate castles around the country—and an entire "Wine City"—to encourage the country's passion for the grape.
by
At Chateau Changyu Reina, honey-colored brick towers enclose wide cobbled courtyards, and vast, wood-beamed halls look as if they are prepared to host an imminent medieval banquet. At first glance, the Italianate castle and winery could have been built hundreds of years ago, in Italy's Tuscan hills.
Spoiler: It wasn't.
The chateau is but one part of an ambitious 600 million yuan ($86.9 million) complex completed four years ago just outside the city of Xi'an, in Shaanxi province in central China. It is a prodigious winemaking operation powered by more than 2,000 acres of vines. Currently, it's annually churning out 5,000 bottles, mostly merlot—and the goal is to drastically scale up. The cellars at Chateau Changyu Reina have room for as many as 150,000 oak barrels.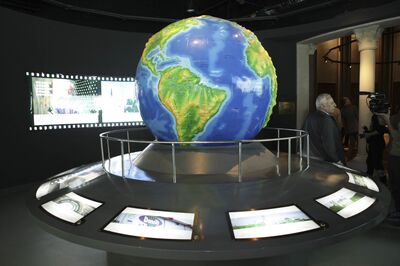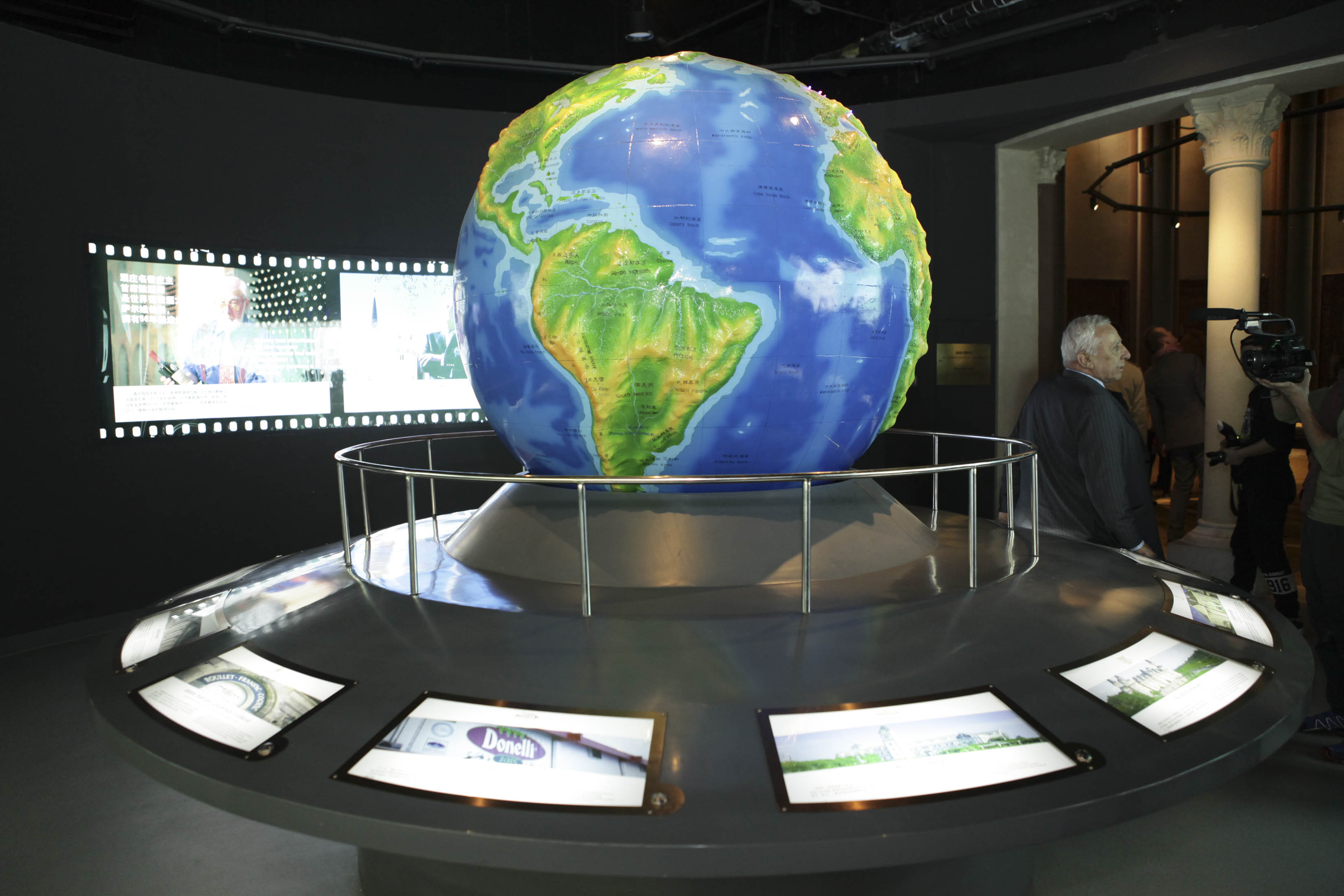 The faux-historic halls of the castle are also home to an interactive exhibition that walks visitors through the history and making of wine. Mirrors encourage visitors to stick out their tongues to examine their taste buds; there's a statue of Bacchus, plus a wall that showcases the various strata of soil, or terroir. Inexplicably, a giant, smiling face resembling a cartoon grape beams out from one corner. An oversized globe spotlights the world's other wine regions, while a table covered in Perspex tubes and buttons asks users to see if they can match a region to a scent. There's even a room dedicated to former Chinese leaders (none of whom seem to be enjoying a glass of wine).
A Country Enchanted by Wine
This mock castle isn't unique. It's one of a network of so-called chateaux built across the country, from Ningxia province to Beijing, by China's oldest winemaker, Changyu.  These grand castles, each inspired by a different European winemaking country, are a concrete sign of the company's ambitious plans for Middle Kingdom wine.  According to the International Organisation of Vine and Wine, China is the second-largest wine grower by vineyard area, behind only France, with land under vine roughly the size of Puerto Rico.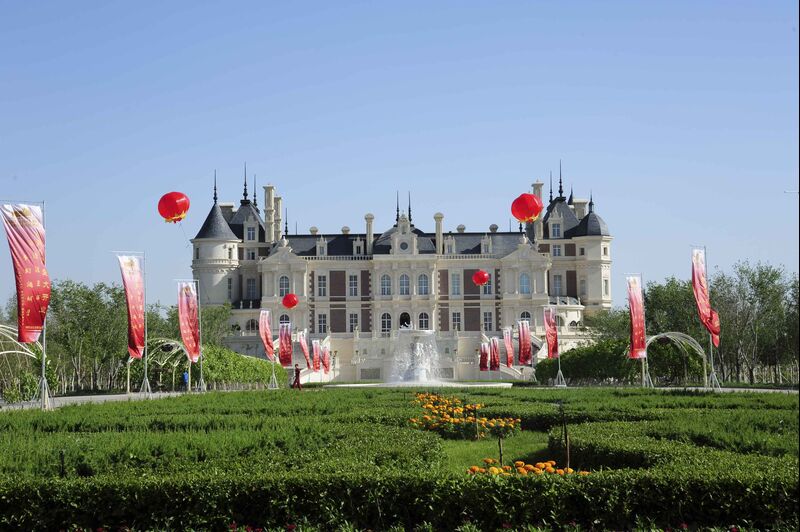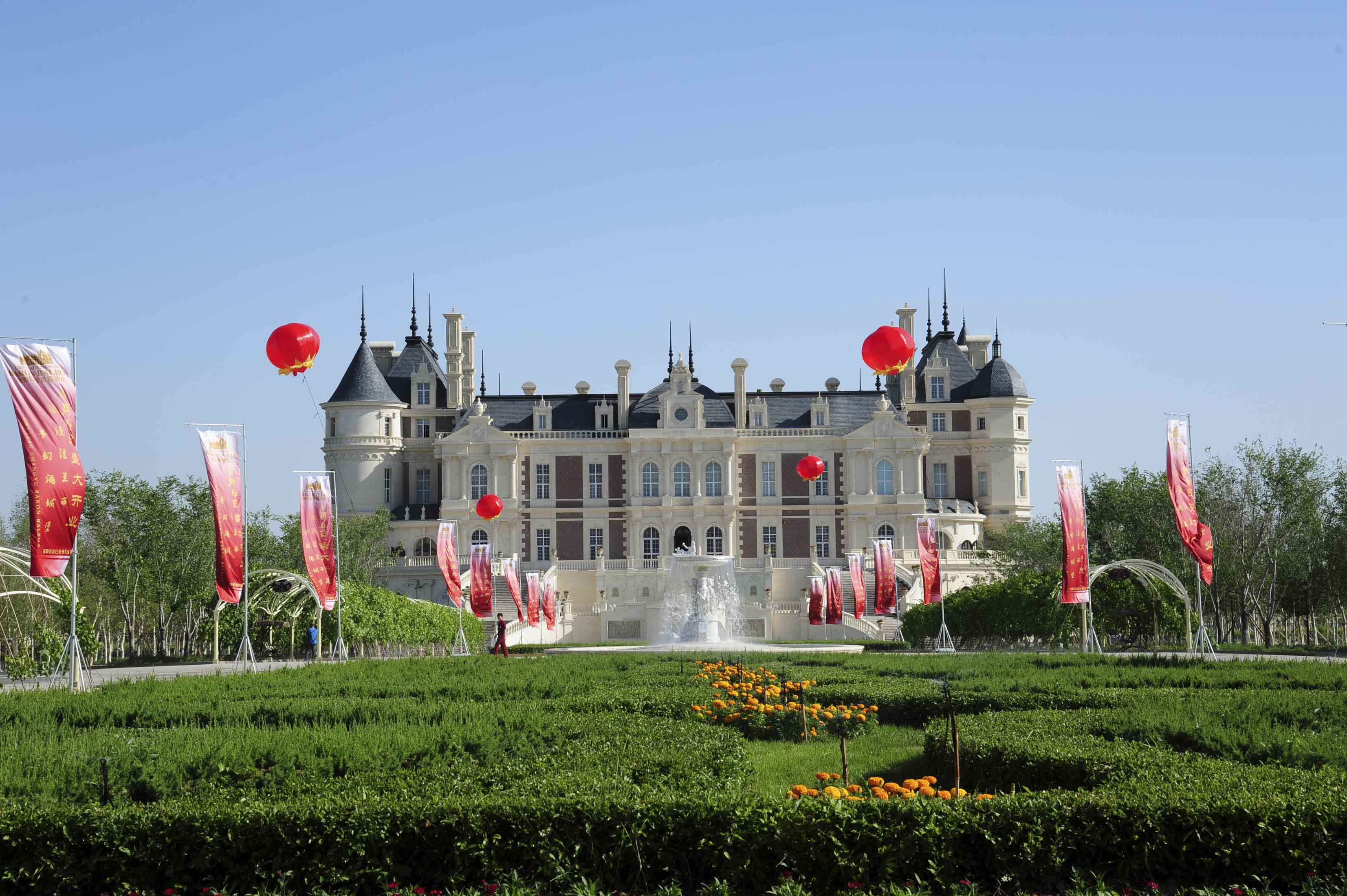 The challenge Chinese winemakers face, though, isn't quantity. It's improving the quality of whatever juice those lands can produce, and that's where Changyu has tapped an experienced, new partner for help. 77-year old Augusto Reina isn't just the namesake of that Shaanxi chateau; he's also the head of Illva Saronno Holding Spa, the Italian winemaker best-known worldwide as the producer of Disaronno liqueur. Reina has imported his know-how to help China's nascent industry produce vintages that even the sniffiest wine snob might deign to sample. In return, Changyu named a castle after him and even crafted a life-size bronze of the Italian sitting on a bench in the vineyard—raising a glass. 
Is the Quality There?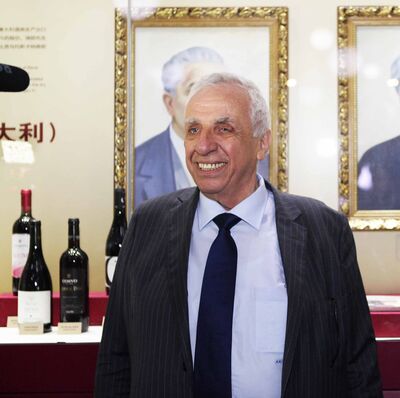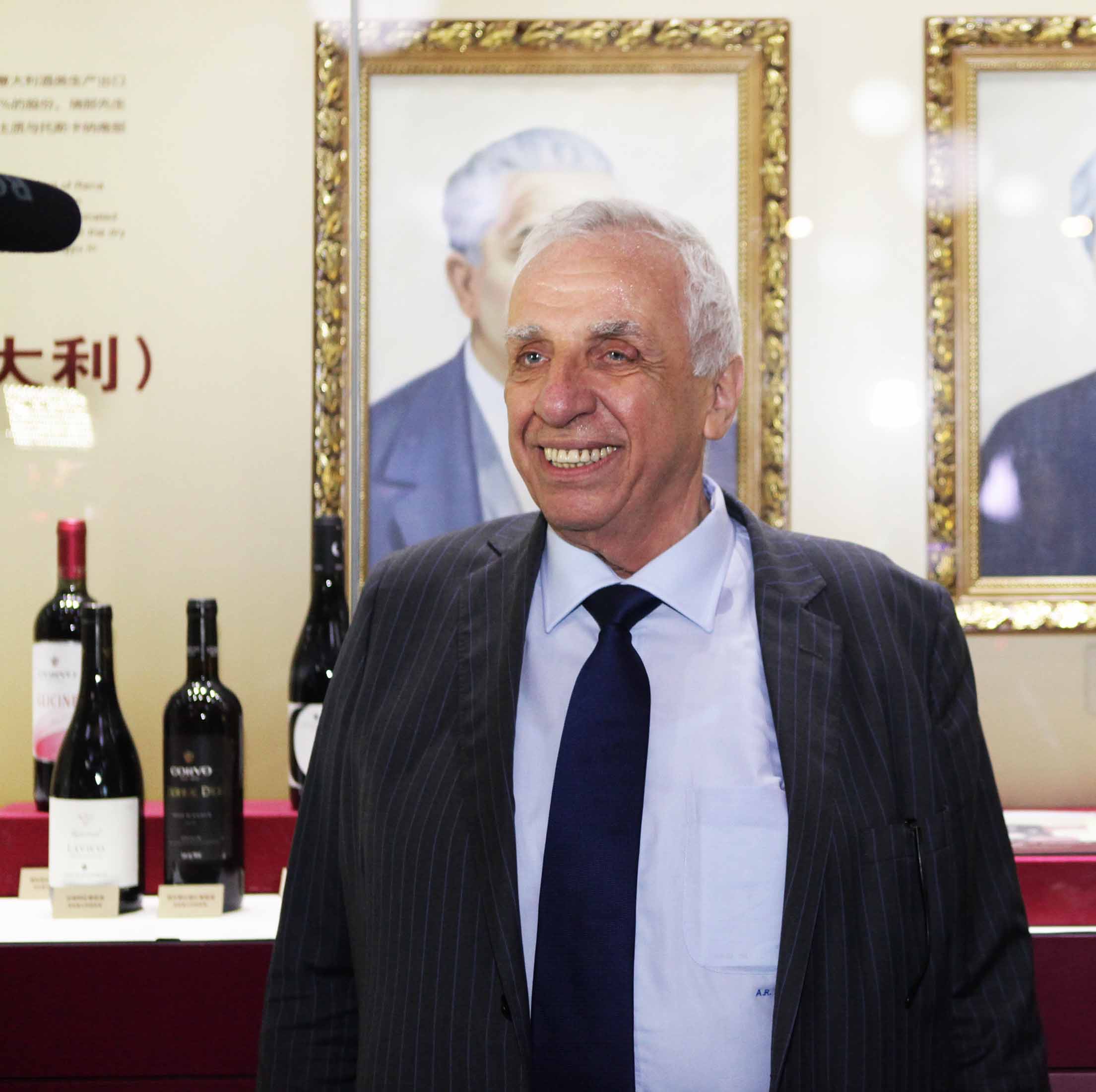 Sitting in a hotel near that castle (and sculpture), Reina anticipates what you're thinking. "When we came to China seven or eight years ago, I had a stomach ache, I must confess it, from the quality of the wine. It was not so good," he explains, via a translator. Yet the entrepreneur saw potential in both the product and the market; by 2013, China had become the world's biggest consumer of red wine and has continued to grow. For more than two and a half years, Reina negotiated with Changyu. "They were very demanding, challenging negotiations. I don't think this kind of thing would be possible for an American or a French company, because they have such a different business culture," he continues, diplomatically.
Eventually, Reina brokered a deal that included Illva taking a significant equity stake in Changyu. The pact also initiated an in-depth cultural exchange, sending Illva's winemakers to various Changyu sites to help school their new colleagues, as well as bringing Chinese staffers to Italy on a tasting tour. The Italians helped Changyu select the grapes to grow and offered advice on how to tend to its existing vines. They pitched in with expertise in selecting machinery for production, too, such as bottling lines.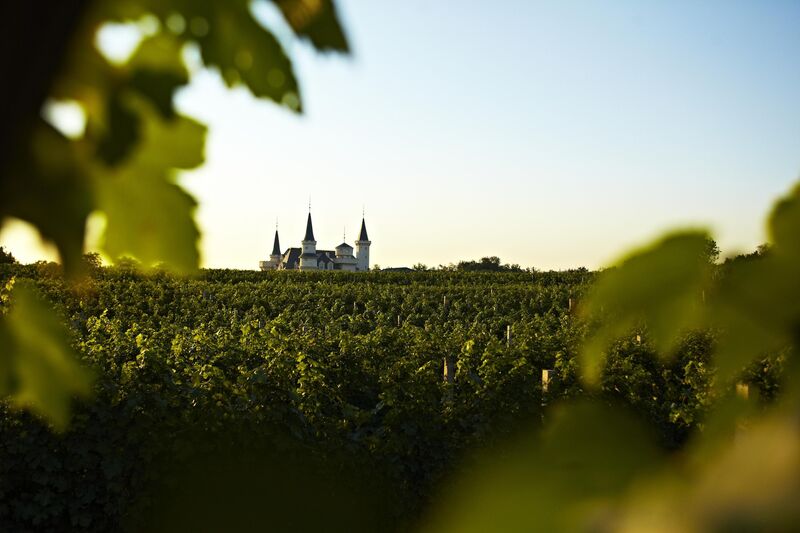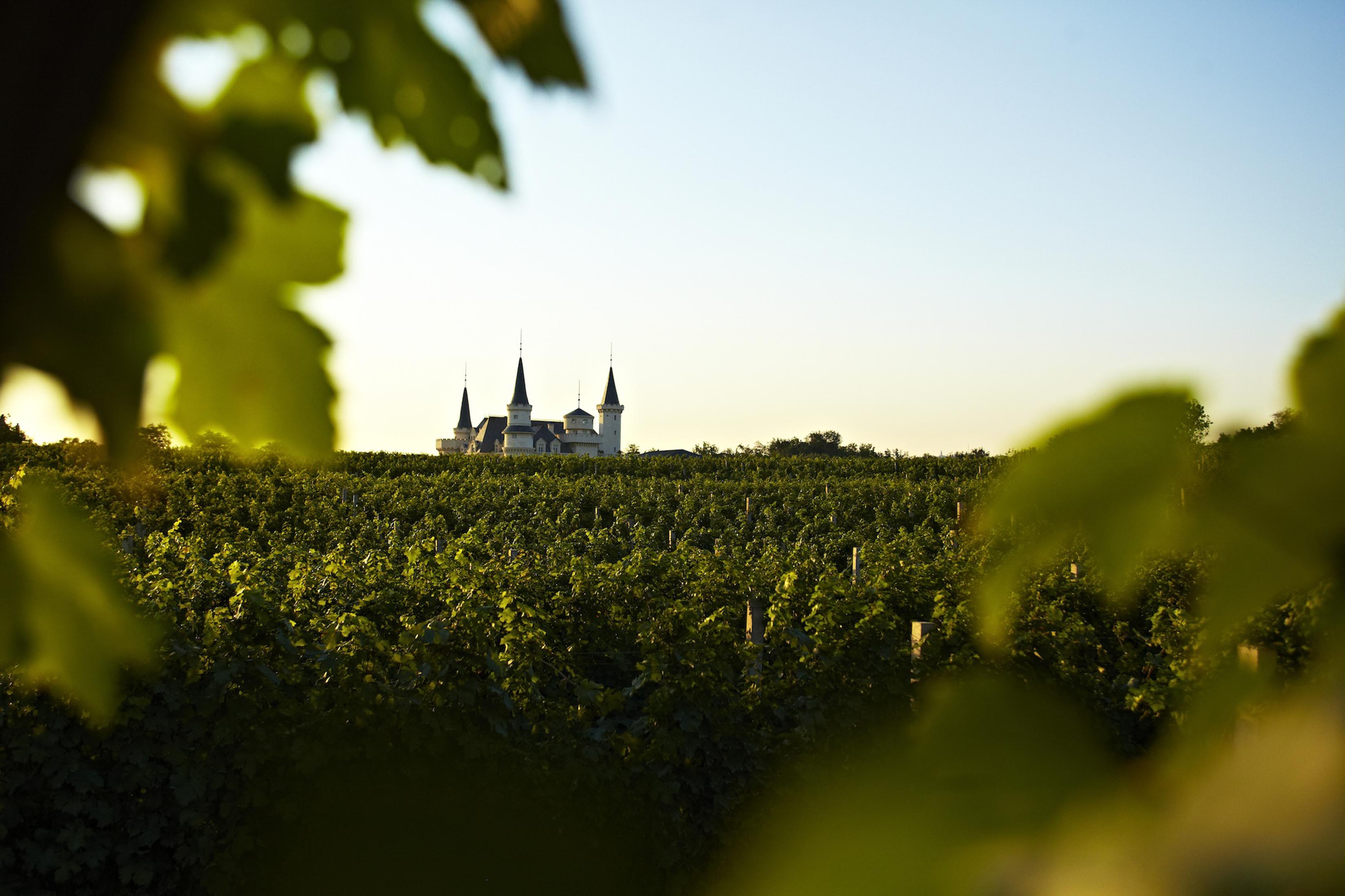 One conundrum that even the Italians can't crack, though, is the dominance of red wine. Redolent of such renowned regions as Burgundy and Bordeaux, red wine shares a color with both the Communist Party and good luck. Unfortunately for lovers of Chardonnay or Sauvignon Blanc, white is the color of mourning and is mostly worn at funerals, which stigmatizes blanc plonk long before it's opened.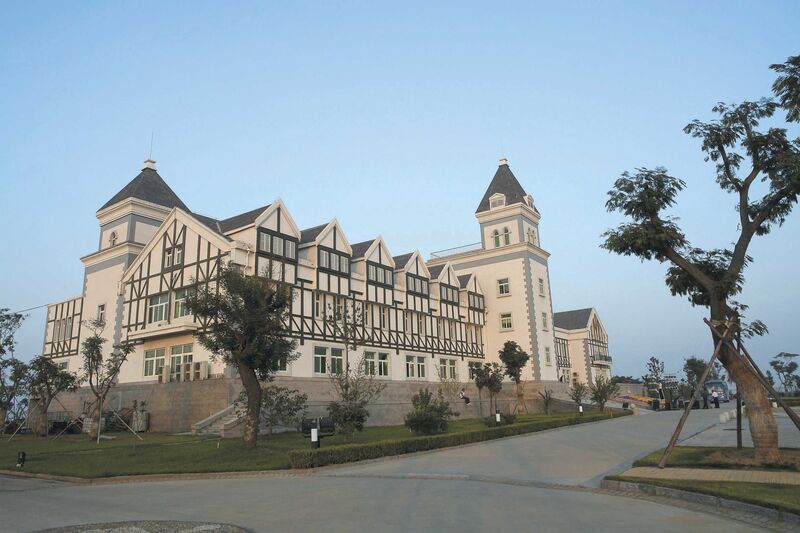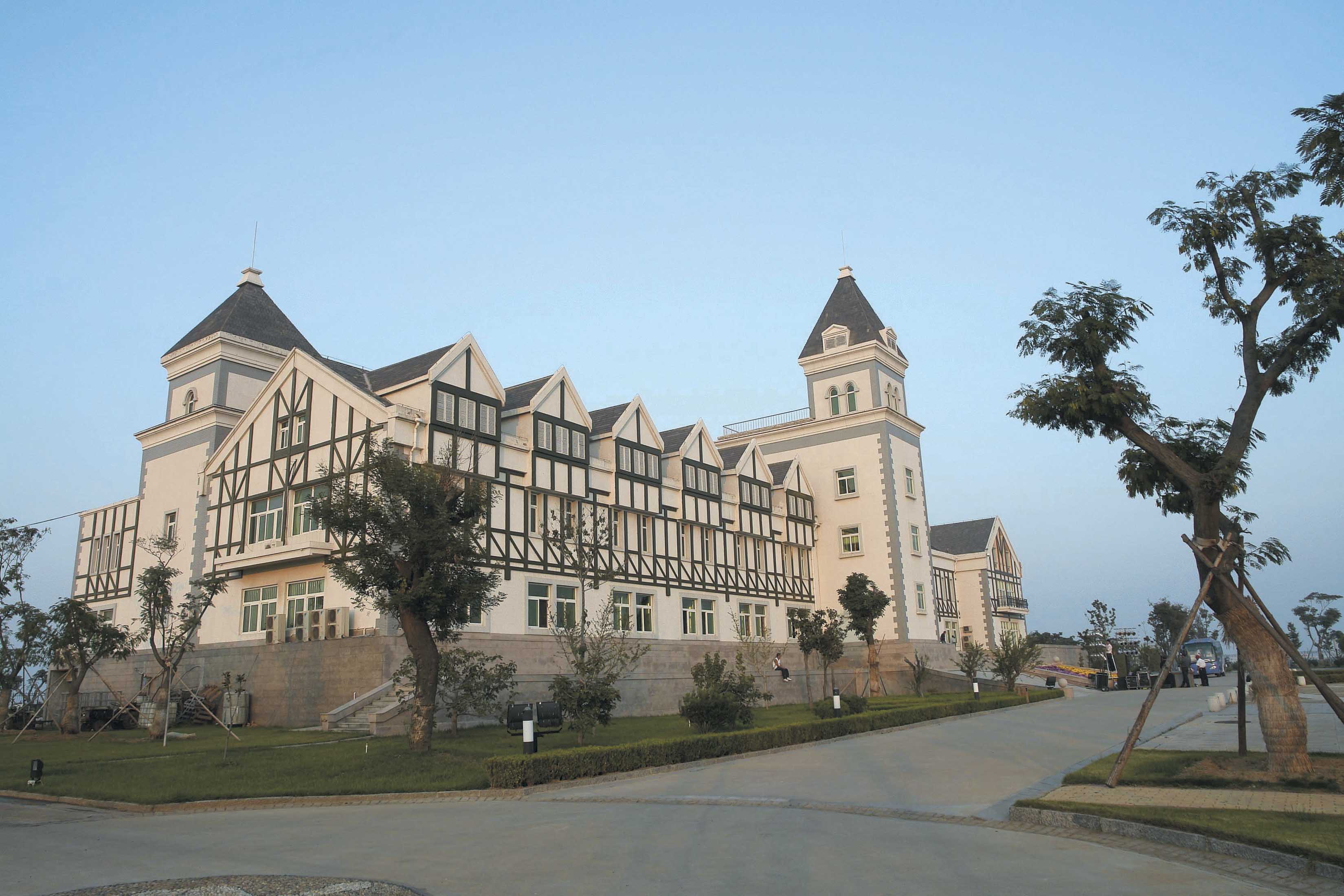 Coastal Wines
Nowhere is that partnership more evident than at a second Changyu site, in the resort city of Yantai on China's northeastern coast, just across the Yellow Sea from North Korea. This is the location of the company's most aggressive and surreal project so far: Wine City. Set on more than 1,000 acres and costing an estimated 6 billion yuan ($870 million), it is aptly named, a sprawling hybrid of production facility, tourist attraction, and trippy fantasia. The inevitable rows and rows of vines pale next to the manmade structures that dot the landscape. There's already one chateau, a white neo-Gothic structure that looks like the set of Monty Python and the Holy Grail, and two others are nearing completion. Another Gothic-inspired pile, complete with an artificial moat, will be dedicated to championing and producing red wine, while the squat and sturdy Romanesque chateau next door—imagine the home of any Disney princess—is a temple to brandy making, a first for the company.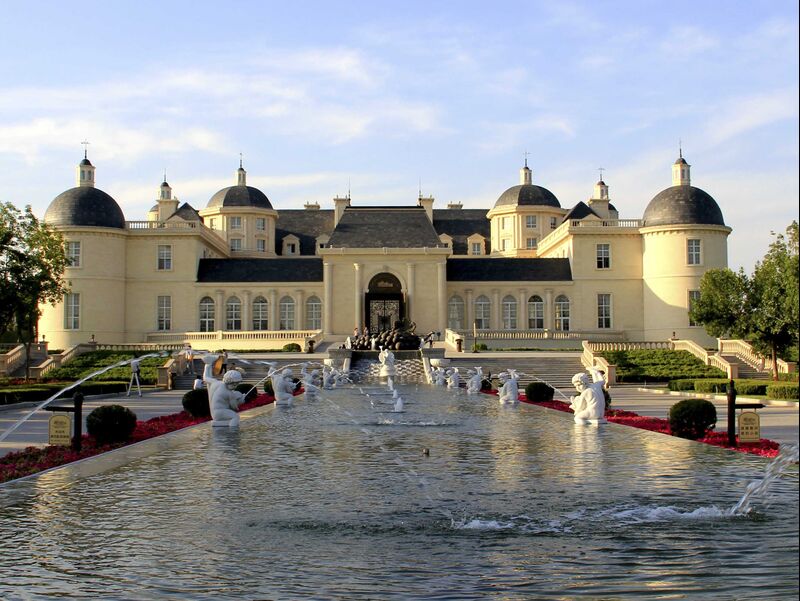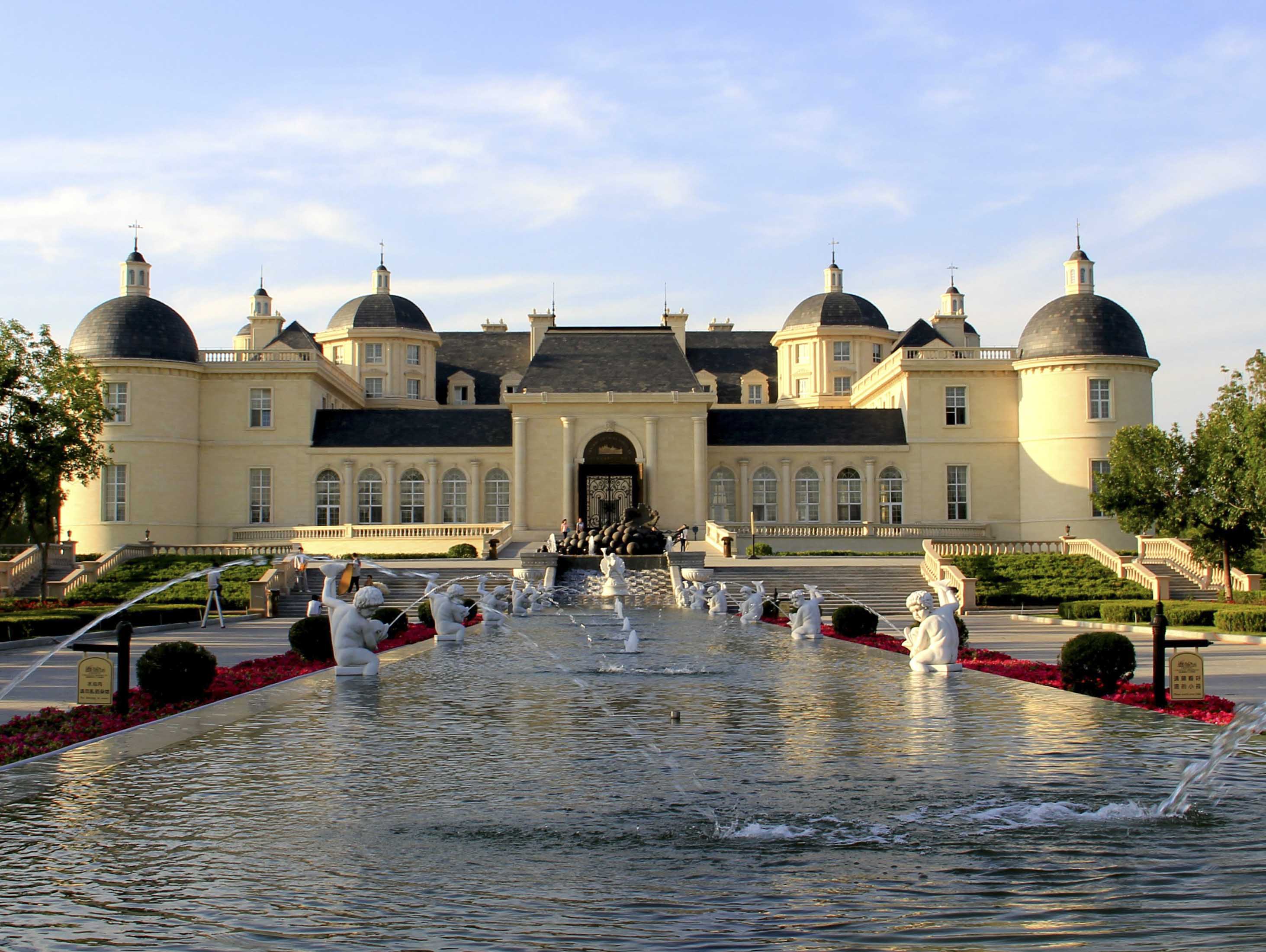 A swirling skyscraper is under construction on a nearby hill, too: Six abstracted champagne flutes decorate the façade of this Wine Research Institute. (Bordeaux's new Cité du Vin seems a flimsy rival in comparison.) It will house scientists working on perfecting those vintages, as well as tasting rooms and bars offering views of the countryside, at least on days when pollution from Beijing doesn't descend in a thick, white smog. Such fumes don't have much immediate effect on vines, compared with toxins in water or soil, so China's notoriously noxious air have not yet impacted its wine output.
State-of-the-Art Technology
Most impressive of all are the winemaking facilities themselves, less caves than a series of cathedrals, or gleaming airplane hangars, jigsawed together with articulated roofs that look like giant caterpillars. A shy guide leading a tour round the humming, spotless facilities says this is the world's largest wine production site. It's a plausible claim. With 95 tanks here already for a storage capacity exceeding 40,000 tons, more are planned; when Wine City hits peak production capacity, it will churn out 450,000 tons of wine and brandy per year, she said. (Compare that with Château Petrus, which might produce around 30,000 bottles, or just under 200 tons, over the same period)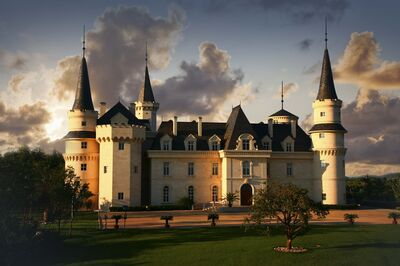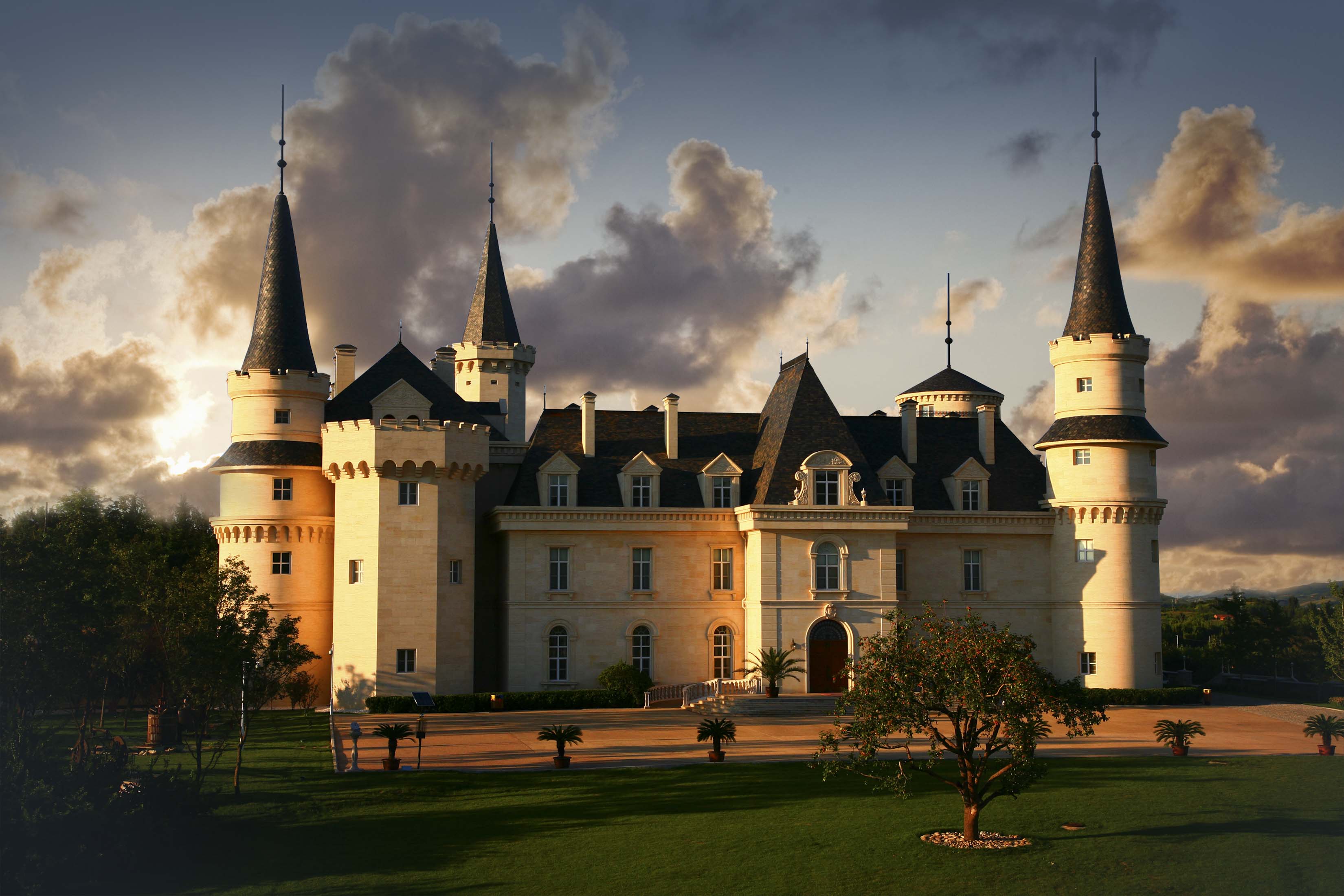 The glass clinks noisily as it trundles around 10 snaking automatic bottling lines, and the cleaning system automatically sterilizes 120 cold stabilization tanks, which help forestall the broken glass-like crystals that form in chilled, bottled wine if it's not properly handled. While the Changyu brand is emblazoned on almost everything, occasionally other names peek through—Italy's Tecninox and ERsistemi, for example, collaborated on that cold stabilization room; almost every piece of major tech in the plant is Italian-designed, thanks to Reina's investment and influence. "All the technologies here are exactly like the ones we have, but since our plant was built two years before them, this is even more modern," he says, proudly.
Tourism, Too?
Can Changyu's deep-pocketed attempts under Reina's tutelage really create a new winemaking hotspot? "It's definitely one of the recognizable big brands, along with Great Wall and Dynasty. Thus, it has instant brand recognition for many Chinese consumers, "explains Edward Ragg, of (Dragon Phoenix Wine Consulting) in Beijing by email. He is cautious about the Italians' impact on what goes into the bottle. Euromonitor International Ltd. analyst Spiros Malandrakis is more bullish, drawing parallels with the surging British sparkling wine industry, which has been buoyed by climate change and a few canny blind tastings in which it beat Champagne. "Considering the amount of money being in, and the people involved, we will soon be seeing not just award-winning sparkling wine from England, but I wouldn't be surprised to see super-premium red wines from China, too," he tells Bloomberg.
---
Brought to you by www.ServingAlcohol.com.  Online training and resources for bar and restaurant owners, managers, servers, waiters, waitresses.Offering Bartender License, Server Training Courses, Food Safety and Management courses.  We train safe service for responsible alcohol service
Best Damn Root Beer, hitting stores and taps Monday nationwide, is the first beer from the mega-brewer's new unit, Best Damn Brewing Co. The new beverage, a sweet ale aged on vanilla beans will weigh in at 5.5% alcohol by volume — that compares to 5% for traditional Budweiser. It's being positioned as a premium-priced product available in bottles, cans and on tap.
"We like to say this is an easy-drinking hard root beer," said Kathy Sattler, brand director for Best Damn Brewing Co. and a 20-year veteran who has served as marketing director on global Budweiser and Corona brands. "It smells, it looks and it tastes like the root beer flavor you know and love, but in an adult version."
As part of the launch, Anheuser-Busch will have Best Damn Root Beer available in bottle, cans and on draft nationwide. Some restaurants and bars will also offer root beer floats with the new beer served in special 20-oz mugs.
Anheuser-Busch's Best Damn Brewing division has been working on the recipe since 2014. "We are seeing more and more consumers gravitate to different styles and different palates wanting things that are not just the traditional beer taste," said Rashmi Patel, an Anheuser-Busch vice president within the brewers' new "Share of Throat" team aimed at creating new alcoholic drinks beyond traditional beers.
Boozy root beers have been a hit this year, with Not Your Father's Root Beer from Small Town Brewery of Wauconda, Ill., and Coney Island Hard Root Beer out of Brooklyn's Coney Island Brewing, both infiltrating shelves across the nation.
Not Your Father's Root Beer (5.9% ABV), which is distributed by Pabst Brewing, was launched nationally this summer;  Pabst CEO Eugene Kashper is also part of a group that owns an interest in the brands.  So far this year, consumers have spent about $111 million on hard root beers at retail outlets and convenience stores, according to IRI, a Chicago-based market research firm that tracks sales at supermarkets and other retail outlets.
Small Town's Not Your Father's Root Beer commands 80% of sales — and is the No. 3 ranked craft beer brand, according to IRI — while Coney Island Hard Root Beer has 18%, IRI says. "Alcoholic root beers quickly emerged to have a significant impact on beer category sales this year," said IRI's Dan Wandel. "Based upon the success this year of Not Your Father's Root Beer and Coney Island Hard Root Beer and the significant number of additional hard soda brands expected in 2016, I would expect to see sales for hard sodas more than double in 2016."
Also hitting during the summer was Coney Island Hard Root Beer (5.8% ABV), available nationally from Coney Island Brewing, which is part of Samuel Adams' parent company Boston Beer. Just this month, Coney Island Brewing added two new soda-inspired beers, Hard Ginger Ale and Hard Orange Cream Ale to roster.
"We launched our Hard Root Beer this summer, and the response was unprecedented," said Coney Island Brewing's operations manager Chris Adams. "We knew we would appeal to the tastes of craft beer drinkers if, like with Hard Root Beer, we created hard craft sodas that are both delicious and nostalgic."
Small Town also has a Not Your Father's Ginger Ale scheduled to hit 40 states in February.
"I just see this as another product that companies are offering in an attempt to quench the thirst of consumers who are trying new products and trying different styles in a lot of different areas," said Chris Furnari, business writer for  Brewbound.com. "Some folks want a more hoppy bitter offering, some want a sugary sweet offering."
For now, Anheuser-Busch is brewing the Best Damn Root Beer at its Los Angeles and Cartersville, Ga., breweries. It is likely expand its lineup, too. "We want to make sure that consumers who are experimenting, when they don't want to have one of our core beers that they were coming to our portfolio," Patel said.
SABMiller, which is the process of trying to merge with A-B InBev, also has hard soda drinks in the works, Furnari said. So the category could be developing into another arena in which Big Beer brands are competing with craft breweries. Craft beer's share of the $32.6-billion beer industry  is expected to increase from 7.5% in 2010 to 15% this year, according to research firm IBISWorld.
"The other thing we're curious to see is whether there going to be a craft version of this, something really high-end (or) organic," Furnari said. "It's certainly an evolving category. We don't know where it's going or how long it's going to last."
Mike Snider, USA TODAY12:25 p.m. EST December 16, 2015