Archive for the 'Wisconsin Alcohol News' Category
Who's calling the shots? Tavern owners want more regulation from the state in an increasingly competitive market
Does the lack of public interdiction of political policy creates a problem for public safety and an opportunity for public danger? Tragedy usually creates the need for lawful policy.

Wedding barns, hair salons, jewelry stores, supermarkets, fast food service, and art dealers, do they all need licenses to serve alcohol? How many state alcohol enforcement agency and local police ever have enough money to enforce alcohol laws with increase of new alcohol locations?
The privilege to deliver and serve alcohol to people must come with a legal responsibility. Prevention of alcohol misuse comes from education for servers and funding for state agency and local police departments.
Wisconsin Tavern League has been a political powerhouse for decades — advocating in the Capitol for thousands of bars and restaurants across the state that serve alcohol.
The group, which was established in 1935 and is the largest tavern association in the world, has, like other advocacy groups, won and lost policy fights over the years. Among its victories, the Tavern League has fought successfully to extend bar hours and remove drunk driving warnings from state road signs. Its biggest loss in recent years was the failure to prevent a statewide smoking ban in bars in 2010.
It has yet to stop what it says is a growing existential threat to local bars and banquet halls: wedding barns, the privately owned establishments advertised to the public and available to rent for a variety of events, the most popular of which is the rusticly themed nuptial. People who rent out these venues typically bring in their own alcohol and bartenders to serve it. Some barn owners have liquor licenses, but many do not and have not been required to obtain them as is required of a banquet hall or bar.

"Our industry has been under attack since day one… just a difference in who's attacking and what the issue is," said Pete Madland, executive director of the Tavern League, in an interview.
The organization's members have for years advocated for more of what other business interests typically rebuff: government regulation and aggressive enforcement. In particular, they argue, the hands-off approach to wedding barns and other unregulated events spaces highlights a lack of consistency when it comes to enforcing liquor laws, a longstanding gripe of the Tavern League.
They say Gov. Tony Evers' administration has so far largely abdicated that responsibility, along with his predecessors from both parties, Scott Walker and Jim Doyle, neither of whom took a firm, consistent approach to alcohol regulation.
"It's the only area of government advocating to deregulate an industry … these are government officials whose only job is regulation," Madland said of the state Department of Revenue and its enforcement agents. Revenue is the agency through which alcohol is taxed and regulated and it currently has nine agents to monitor hundreds of businesses that hold alcohol licenses.
There is no reliable Democratic or Republican position when it comes to selling and serving alcohol and both parties accept Tavern League campaign contributions to boost their candidates.
Evers has said that he wants to see alcohol consumption in the state better controlled, but he has yet to change the state's approach to how it enforces the law or provide guidance on how the state's alcohol statutes should be applied.
"Alcohol is something that needs control and so we have to make sure that is controlled in a way that other spirits are," he said shortly after winning election in November 2018, according to the Milwaukee Journal Sentinel. Evers spokeswoman Melissa Baldauff did not respond to repeated requests for comment on the issue.
Six months after Evers took office, the Tavern League and wholesalers say they are still waiting for guidance.
"We're operating without a net … nobody is calling the shots," said Madland, who said the Tavern League has asked the state countless times over the last several years to better enforce the law. "We've lost some respect for the agency … the message it is sending to our members: 'You don't have to follow the law.' And that isn't some hyperbole."
Allowing unlicensed event venues to stay in business while alcohol is served on the premises violates past Department of Justice legal opinions and is tantamount to the executive branch creating new policy without the Legislature, said Scott Stenger, the Tavern League's lobbyist.
Stenger cites a 1992 legal opinion from then Attorney General Jim Doyle, who told the Legislature that if alcoholic beverages are served at an event where an admission fee is charged (similar, Stenger said, to a rental fee) that the "owner of the establishment must hold the appropriate alcohol beverage license."
"We're perplexed … wedding barns were always required to have a license," he said.
Eric Jensen, lobbyist for the Wisconsin Beer Distributors Association, said his organization, too, wants more enforcement.
"We want our industry to follow the law, and we look forward to working with the current administration and the Department of Revenue to ensure our enforcement measures accomplish that goal," he said in a statement to the Cap Times, speaking about enforcement broadly, not wedding barns. "The nondiscriminatory, competitive playing field created by these regulations has provided Wisconsin a vibrant craft beer and alcohol market in which our homegrown businesses compete fairly with manufacturers from across the country."
Though the Department of Revenue jointly enforces state alcohol laws with local municipalities, it is considered the legal authority on how those rules are followed. Patty Mayers, a spokeswoman for the agency, said it has been working with the state's alcohol industry to improve enforcement and is working on finding funds to hire more enforcement agents.
"The Department of Revenue takes very seriously the topic of alcohol regulation and enforcement, and effectively utilizes the resources granted to us by the legislature to enforce alcohol laws," Mayers said.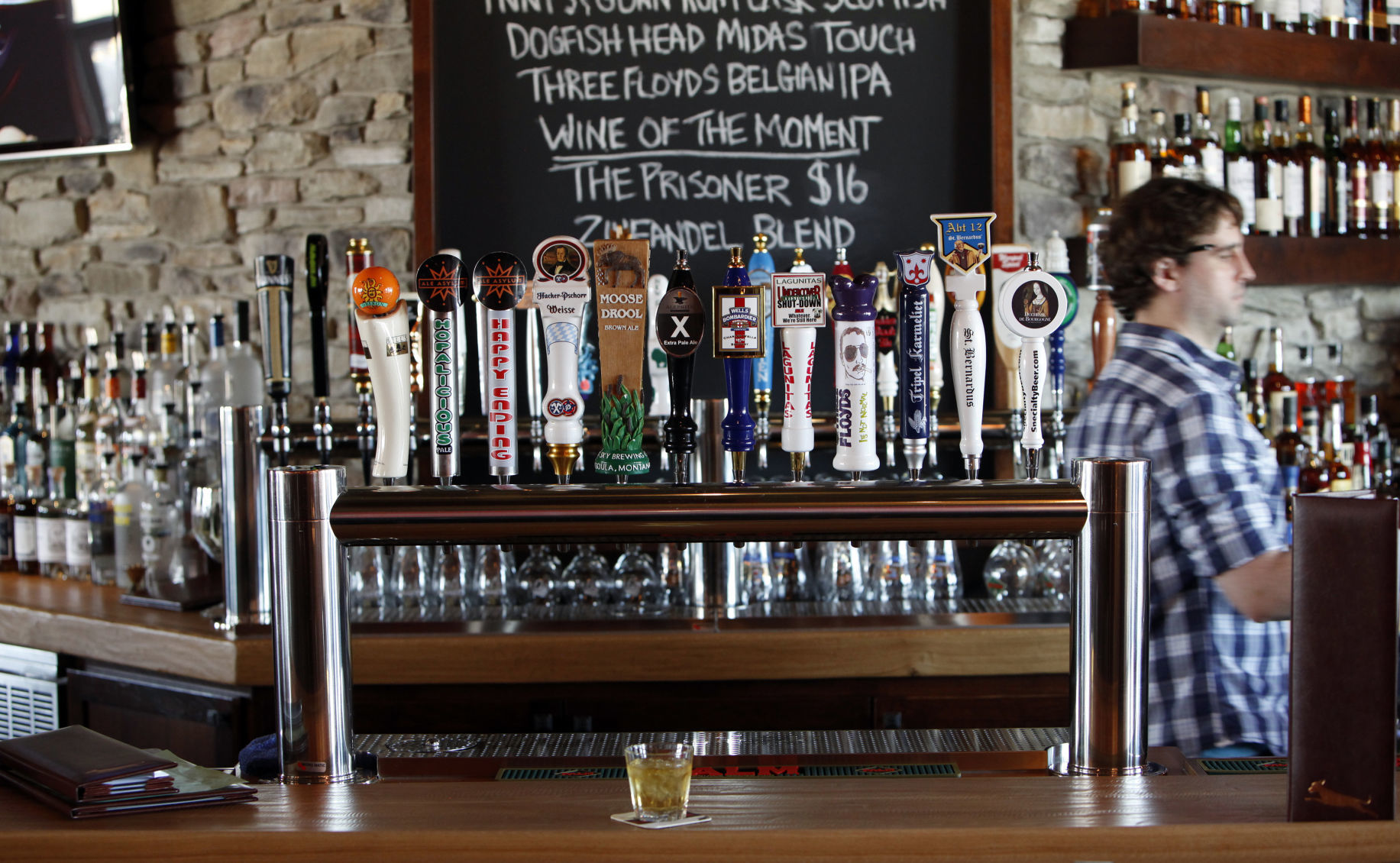 Department of Revenue as 'referee'
The framework of laws that the Tavern League and alcohol wholesalers want better enforced is called the "three-tier system." This set of laws outlines how alcoholic beverages should be manufactured, distributed and sold in the state.
After Prohibition ended in 1929, Wisconsin, among other states, adopted this system, which mandates that alcohol be made, distributed and sold by different companies. For example, a business that makes alcohol cannot also distribute it and companies that sell alcohol wholesale cannot sell it directly to the public.
Businesses like breweries, wineries and distilleries that produce the alcohol each have distinct rules they must follow. Those rules have changed incrementally over the years — some say becoming murkier — to accommodate new trends and business models in the growing craft beverage industry.
Though the three-tier system was intended to prevent monopolies, some craft beverage businesses say it now does the opposite, protecting some alcohol players at the expense of others.
The debate surrounding the three-tier system and how it should work has divided Republican lawmakers and pitted businesses that produce alcoholic beverages against those that distribute and sell them to the public. Both sides speak of clarifying the law, but what that looks like varies widely.
The state Department of Revenue was always supposed to be a referee between those business interests, but it has become increasingly passive, said Roger Johnson, a former regulator who retired in 2014 after 38 years working in alcohol enforcement. Johnson participated in a legislative study committee on alcohol regulation last year that resulted in little new policy, none of which addressed key longstanding problems. He acknowledged that wedding barns should be regulated in some way, but said that he has not been aware of what's happened at the department since he left.
"I think there is a reluctance on the Department of Revenue's part to get involved in any kind of municipal issues that come up, which, as the referee as a state agency, we're here to administer and enforce the law," he said. "If you want to change the law, change the law. Don't wink and nod and ignore it because it's not going to go away."
He looks at efforts to clarify the law as "an attempt to bring things under control before it does become a problem," he said.
Robert Pomplun servingalcohol.com
The way weekend fun is important for everyone, the staff at the bars have their professional responsibility for alcohol sales and service. There are specific courses like Bartender Skills training, Alcohol Course, and Food Safety Courses. Let us see specifics of two of these courses in this blog post.
Manage Serving Environments
This program is for servers/bar staff related to the sale and consumption of alcohol. It includes details relates to selling alcohol to minors, intoxicated, possibly impaired, or poly-impaired persons. The intention of the course is to prevent possible impairment, underage drinking, and drunk driving. The program is also known as Alcohol Course.
In some states, there are primary requirements which one has to complete before taking this certification course. It is mandatory to many bars and restaurants to work as a staff with them. The industry experts collaborating with you is the most important part of this course. It relates to your learning and training desires and managing the establishments professionally. A certificate from a premier institute shows your commitment to your business and readiness for responsible business practices.
Along with the course, you get frequent updates to course material and a library of resources which is helpful for your business. Like any other professional course, you get a chance to collaborate with peers from different establishments. The course coordinators make sure you pass the certification.
Bartender Training Course
If you or your staff is engaged in serving drinks, this course is important. There are specific skills you need to gain to work in this industry. Some reputed training institute awards the Bartender Certification.
The course is available online and covers the topics listed below:
Beers, Wines, and Liquors
Searching and Interviewing for a Job
Along with the course material, you receive links to additional resources to improve your skills. The online course is flexible, and you can complete it at your convenience. The course requires constant updates as per latest trends and industry information. At the end of your review and completion of training material, you get a Bartender Certification.
Serving Alcohol Inc provides all information related to these courses, and you can complete some of them online and some of the classroom courses. The courses are available in almost all the states in the US, and the Institute has 40 years of experience in this field. You can choose the course by State, and Serving Alcohol Inc. will provide you the necessary training through expert trainers and a certificate which has a value nationwide.
For a limited time, we are offering a special price on the Wisconsin Bartender License course.
You can e
nroll for $8.99 in the Wisconsin Bartender Licence course by clicking this link.
You might want to know this if you are doing the following searches:
wi bartender license
wisconsin bartender license
Alcohol Service Training for Employees
Mission Statement: To actively promote the responsible sale, service and consumption of alcoholic beverages at Wisconsin State Fair Park while maintaining a safe and friendly family atmosphere at the Park.
In an effort to keep consistent with our Mission Statement, Wisconsin State Fair Park has adopted the following criteria for approved employee alcohol service training. All Vendors with an alcohol service privilege and their employees who perform any type of alcohol service must posses a valid Wisconsin Bartenders License or complete and pass an alcohol service training program that has been approved by the Wisconsin Department of Revenue and fully complies with Wisconsin State Statutes 125.04 and 125.17.
Click here to take our approved Alcohol Service Training Program
Alcohol Service training courses can be taken online or in a classroom setting. Some online courses that are currently available are;
o Servingalcohol.com
Alcohol service training is currently valid for a three year period.
It is the responsibility of the Vendor to document and track the employee alcohol service training and results along with the number of employees that posses a valid bartenders license to ensure the proper level of staff has met the aforementioned criteria. The Vendor will have available and provide this list to WSFP upon request. Employees are required to have on display or carry their valid bartender"s license or the official alcohol service training certificate while performing alcohol service duties on the ground.
.
See a comparison of Wisconsin Bartender License Courses here
.
Source: Journal Sentinel
Gary Porter
May 4, 2011
Milwaukee-area retailers can sell cut-rate alcohol, but if they don't want to land in court, they'd better not call it discount liquor, no matter how common or ubiquitous that may sound. Stores have been ordered to remove the phrase from their signs and names as part of a trademark enforcement campaign by the granddaddy of the genre, Discount Liquor.
The widely known store at 5031 W. Oklahoma Ave. – the company also has a store at 919 Barstow St. in Waukesha – has been in business since 1968. But last year, it began hearing about some confusion among suppliers, customers and advertisers who thought new stores springing up might be affiliated. Lawyers from Maistelman & Associates sent out some cease-and-desist letters and, when those failed to generate compliance, followed with lawsuits.
Frank Greguska, an officer of Discount Liquor, called litigation a last resort. "However, we could not stand by and allow customers to continue to be confused about whether our business was in any way connected to these other 'Discount Liquor' stores," he said in a prepared statement. "We could not risk any damage to our business' excellent reputation that may have been done by the operator of an unrelated store with a confusingly similar name." So far, Vliet Discount Liquors, 3901 W. Vliet St.; Cleveland Discount Liquors, 8423 Cleveland Ave., West Allis; and Ridins Discount Liquor, 1606 N. 35th St., have either agreed or been ordered by a court to immediately drop the word "discount" from their signs and advertising, and to not pursue any trademark registration of the name.
Vince Bobot, an attorney that represented the Cleveland Ave. store, said his client had agreed to resolve the case because "discount" wasn't a significant or key part of its business plan. The two other stores appeared to not even have lawyers, according to court records. The owners could not be reached Tuesday for comment. But at least one store plans to fight back. A lawyer for Brook-Falls Discount Liquor, 14835 W. Lisbon Road, Brookfield, said his client does not plan to change its name unless and until a jury says it should. "Discount and liquor are just two generic words," attorney Joseph Kershek said Tuesday. "They're unremarkable with no special meaning, not protected, and we think anyone can use them."
Discount Liquor isn't done yet. It filed a new action Tuesday against Kimbee's Discount Liquor, 3160 N. 27th St. Like the other complaints, it claims infringement of trade name and unfair competition. Discount's attorney Michael Maistelman said, "The phrase 'discount liquor', after over 50 years of business in Wisconsin, has acquired a secondary meaning beyond the obvious meaning of the two words." He said the company has gotten many inquiries from the public about other Wisconsin stores with similar names that are in no way related. "Discount Liquor is a protected, valuable mark, and our client looks forward to enforcing its rights," he said.